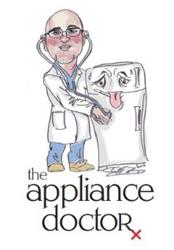 New York's Appliance Doctor Providing Management Training at the 2016 Annual National Appliance Service Convention
NEW YORK, N.Y., Sept. 20, 2016 – The annual National Appliance Service Convention, will take place on September 26th through the 29th in Dallas Texas.   The appliance service industry's experts will be in attendance.  New York's Appliance Doctor will present unique training workshops this year.  The convention is held annually by the Professional Service Association (PSA), an association of 450 service companies nationwide.
Anthony Attanasio (aka "The Appliance Doctor") is imparting his over 36 years of appliance industry knowledge to fellow independent service owners at the conference. His trainings will assist those in the appliance repair industry. Independent appliance service owners have a wealth of incoming information to constantly learn from appliance manufactures and new product lines. This includes the ever growing smart appliance technologies.
Over a dozen manufactures are attending the convention with product trainings. While there is training going on for appliance service technicians, there are also different management trainings.  These include trainings that focus on subjects including becoming a factory authorized service provider and stellar customer service, which main focuses of the trainings being given by the Appliance Doctor.
"I believe the training workshops will be of immense value to the service industry attendees," said Mr. Attanasio. "There will be two early morning break-out sessions, which are open for anyone attending the convention.  The break-out sessions are designed as a true open forum where all in the industry can come sit and discuss what's on their mind and speak about problems and solutions for technical and management related items."
Mr. Attanasio will go over his appliance service company's history and the techniques he used to build up Appliance Doctor. He will also be accompanied at the convention by four of his key technicians from the Appliance Doctor. Over the years he's become well known through his amusing online YouTube videos where he is dressed in a full white doctor's uniform and stethoscope.
"I love playing the character of The Appliance Doctor," said Mr. Attanasio. He showcases this passion in over 175 videos on YouTube (www.applaincerepairtv.com.)
About PSA
PSA is an independent trade association dedicated to the highest standards of quality service. The purpose of PSA is to be the voice of the independent service provider and to assess and identify industry related problems and provide solutions. PSA is dedicated to providing educational training, certification, business management training, support and fairness to the independent service industry. PSA encourages professionalism and honesty and publicly identifies those technicians who provide a level of service professionalism that meets the criteria established by the service industry, with industry approved certification credentials.   For more information visit www.psaworld.com.
About The Appliance Doctor
The Appliance Doctor in New York serves, Westchester County, The Bronx, and Manhattan and is responsible for servicing over 500 buildings and 40 different management firms in New York.  Now in its 36th year of business with over 30 employees, Mr. Anthony Attanasio founded Appliance Doctor. He has also has served on the board of directors for New York's Professional Service Association (PSA) for 20 years. The annual "William Key Award" will be given to Mr. Attanasio in recognition of the many years of exemplary service to the Manhattan Resident Managers Club on November 5th 2016. Mr. Attanasio for 2016 is named the Vendor of the Year." For more information on The Appliance Doctor, visit www.appliancedoctorx.com.