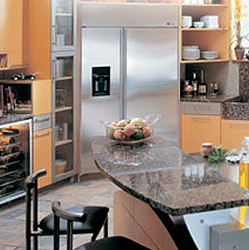 A refrigerator is an essential appliance in every home. It has a wide range of applications, and it should run night and day 24/7 to keep things inside fresh. You must properly maintain your refrigerator to keep it functional for a long time. Since a refrigerator runs all day, it can break down or malfunction at some point in time. It might malfunction due to faulty parts or lack of proper maintenance. If something happened to your refrigerator, it's time when to call a refrigerator repair Bronx.
A broken refrigerator can be a pain and can cause serious disruption in the kitchen. Having a broken refrigerator means the food you have stored in it may rot or spoil. In such a situation, you need to call a repair service provider near you. It's important to hire an expert so that your defective refrigerator can be repaired immediately. Hiring one can save you a lot of money and time instead of buying a new one.
Common Refrigerator Problems
Many things might happen with your refrigerator. If you have experienced them, contact your refrigerator repair Bronx NY, as soon as possible. Below are some common issues that can happen with your refrigerator unit.
freezer seems not to work properly ( not cold enough)
water leaks
frequent unit cycling
produces weird noises
ice sheet on the freezer's floor
ice dispenser frost buildup
ice maker is overflowing
water dispenser not working
broken light
broken power source
broken cable
Literally, not everyone wants to buy a new refrigerator when it malfunctions. Luckily, sometimes ta refrigerator can be repaired, and the cost is not that to be worried about. Repair service providers will not ask for a lot of money. They will just charge you depending on the service and the parts that needed replacement. Nevertheless, there are times when the repair cost can be insane. The price could be expensive as a new refrigerator.
Well, it's up to you whether to have it repaired or not. Refrigerators need to run all day and all night, and sometimes these machines can break down. Refrigerators usually last 10-20 years, depending on the brand and how you take care of them. Still, there will come a time when it will not work anymore. Repairing it with yourself is not an option. An expert should only handle these complex machines. Although having it repaired would cost you money, but in the end, you'll spend less than buying a new one. These are just a few things to watch out for. If your refrigerator breakdowns, contact a professional refrigerator repair Bronx NY and have your broken refrigerator repaired in a jiffy.