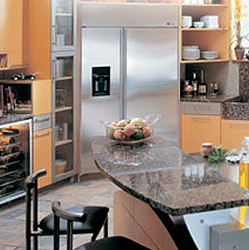 It is perfect to have some cold refreshments to beat the extreme heat during the long summer season.
When cuts of meat, veggies, fruits, and other goods are on sale, it is a bright idea to make a bulk purchase.
But imagine your refrigerator cannot make some ice cubes for any cold drinks and store your perishables. It is a problematic situation you hardly want to experience at all.
Your refrigerator is perhaps one of the most important appliances in your home. So it is recommended to invest in a quality, sought-after, and top favorite brand to enjoy an excellent performance level.
But as your refrigerator gets old, its power and capacity to make ice and keep your goods fresh will significantly decrease.
But don't feel worried because it is part of the process. Also, it is easy to find professional refrigerator repair NYC today.
Selecting the Best Refrigerator Repair Technician 
The demand for refrigerator repair New York (NY) technicians has increased in the past few decades, and it is estimated to double in the coming years.
While the variety of options can be an advantage, it can be a problem for many homeowners. Here are some factors to consider when choosing the right technician for your refrigerator repair project:
Quality and Individualized Service. Who prefers to contact a technician over and over again to fix a simple problem in your refrigerator? No one wants that because it is time-consuming and also expensive. So, stick to a technician that provides individualized and quality repair.
Fair and Competitively Priced Rates. Why would you settle for a technician with an expensive repair service if others guarantee quality and relatively priced solutions? Whether you have been searching for affordable or quality repair, take advantage of a trusted expert.
A Team of Capable and Adaptable Technicians. Whenever your appliance malfunctions, you can't help but feel disappointed. So, you do not deserve an inexperienced technician. While it may seem unnecessary to do some research about your potential technicians, your efforts would pay off, working with a team of flexible professionals.
Common Refrigerator Repair Problems Every Homeowner in NYC Experience 
–A Spike in Utility Bills. Do you minimize the consumption of your appliances at home? Why is your utility bill still increasing? Your refrigerator could be the problem. So, let a licensed technician inspect it ahead of time.
–It No Longer Keeps Your Goods Fresh. Studies have found that the average American household throws away approximately $2,200 worth of food every year because of different factors, and an inefficient refrigerator is one example. If your food gets spoiled more quickly than usual, it is time to give a repairman a call.
Schedule an Appointment with a Refrigerator Repair New York (NY) 
Does condensation start to build on your refrigerator? Does the motor produce excessive heat? If yes, request a quote from a specialist in refrigerator repair New York (NY) today!
From a highly dedicated team, affordable price to a quick response time, a licensed repairman got you covered.
Schedule an appointment with an expert now!