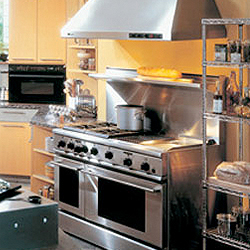 You do not any time for oven problems, especially if you are in a hurry cooking for a weekend's dinner or you are baking for your pastry business. However, the same way with other home appliances, the time will come that your oven will have some repair issues.
As an owner of an oven, it's essential for you to know what the issues to watch out for are. Besides, do not forget to consider an oven repair Yonkers when things get worse.
Oven Not Preheating
A problem like an oven is not preheating is mainly caused by an issue with a heating element in an electric oven or igniter in a gas oven. When you encounter this issue, figure out if the oven is at a lower temperature or not preheated at all.
In case the oven still produces heat, then an oven repair New Rochelle can solve your situation. Some of the oven's heating elements are located within the appliance itself, so they are not easy to access. You may need repair professionals to find them for you.
Door Not Shutting
An oven door that does not shut can cause a safety hazard at home. Good thing, this issue is easier to fix than any electrical problem. You can simply remove the door by unscrewing screws or pulling straight up.
For broken springs, use tools like pliers. You can also replace the rubber or silicone gasket around the door. If these solutions do not work, then it's time to contact professional repair technicians near your area.
Temperature Is Off
Your oven comes with a temperature sensor. This sensor inside the oven can be burned and can also be an indication of normal wear and tear. Using an ohmmeter, you can easily test the sensor on your own. If the sensor failed to work, you could simply replace it.
However, if the problem is associated with a heating or gas element, it can result from an electrical outlet problem. So, it's better to let a professional check it out.
Oven Not Self Cleaning
Proper self-clean cycle is essential in an oven. If your oven fails to self-clean, make sure that it is in the right setting. If one of the buttons or knobs is still running or pushed, the oven will not start the cycle.
You also need to ensure that there is a no larger spill. If you still encounter issues, the problems can be associated with the thermostat, control board, or door lock. So, you may want to hire a professional appliance repair technician.
Like other home appliances, your oven plays a critical role with regard to convenience. So, do not overlook any oven repair issues. Contact an oven repair White Plains as soon as possible.