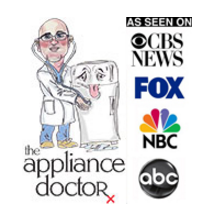 Household appliances make everyone's lives simpler and easier. In fact, many people cannot live without these machines. We utilize appliances to save a huge amount of time, so we could enjoy our hobbies and spend time with our family or friends. Hence, you must ensure your appliances are working properly.
In this post, we will present you the practical tips to choosing the best White Plains appliance repair provider
Tip #1. Find the ideal appliance repair provider
It would be best if you searched for the ideal service provider to have your appliances fixed. We recommend you talk about the matter with your family members, neighbors, or colleagues.
Do they give you real insights about the services they utilized? You can then check out the same company. You can also check various review sites to learn more about other service providers as well as their ratings. What's more, do not forget to check the background and experience of the company.
After you've made a list of some repair companies, you can now book an appointment.
Tip #2. Find the qualified appliance repair professionals
Ensure you consider an appliance repair White Plains NY that provides quality services. With that in mind, you can request for proof of training and certifications. The idea is to authorize that the professionals you're planning to hire understand their jobs well.
You might also wish to ensure the professionals are trained and understand how to fix the current models and makes of the appliances you utilize. In short, finding a qualified professional is necessary if you wish to get the task done professionally.
Tip #3. Determine the price of the repair
You won't find fixed service prices for appliance repair. Hence, the service provider will charge you according to the type of fault in your appliance. Ask the professional before on how they determine the service costs. Normally, the price is a combination of labor, parts, and service fees.
Normally, experienced repair technicians make short-term diagnoses. They are more likely to carry the parts when they visit your premises to check the unit. That could help you save money on labor charges. Further, it's better to receive quotes from different providers to compare prices.
Tip #4. Learn more about the warranties
Your appliance must work for months if not years after it's fixed. However, what about if it stops working for a few days after? You realize the repair job wasn't done correctly. You might wish to ensure your repair technician provides a warranty on their service. Does your service provider doesn't offer a guarantee? Then you might go to another service provider.
We recommend following this tip to make sure you receive the best professional to meet your requirements. White Plains appliance repair technicians should be experienced, dependable, and trustworthy.