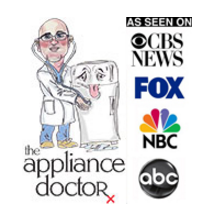 Is it your plan to purchase a refrigerator for your new home? What is new in refrigerators? For sure, you love to know what the latest features and technologies are. So, below are some of the latest innovations you can expect from a modern refrigerator.
French Doors
Refrigerators with French doors offer spacious, fresh food compartments together with two-side-side doors. So, you can have enough space for platters, odd turkey, and cookie sheets.
Grab-N-Go Doors
Do you want a refrigerator that offers quick food grabbing on-the-go? If so, then a refrigerator with the Grab-N-Go door is what you are looking for. This innovation allows you to store the items you often use within the door while you do not need to open the main refrigerator door as frequently as possible.
New Ice Options
Today, you can take advantage of a refrigerator with new ice options, like shaved ice other than crushed and standard cubed options. You can get all of the ice with 100% use of the top shelf of the freezer.
Tilt-and-Take Drawers
The tilt-and-take drawers of the bottom freezer are designed for easy access. This innovation is ideal if you have a bad back. That way, you only require less crouching and leaning just to see what's inside your freezer.
Internal Water Dispensers
It's a sure thing that you will love the convenience of purified water from your fridge. With the internal water dispenser, you can enjoy clean water and clean lines.
Antimicrobial Drawers
Are you tired seeing your zucchini grow fur very quickly? Or your celery turn to mush too quickly? Then, it's time for you to get yourself a refrigerator with antimicrobial drawer. It has crispers with built-in technology necessary for inhibiting odors, stains, and bacterial growth.
Digital Temperature Control
With new innovations in refrigerators, you are going to forget about the dial. That is because it's time for you to experience the best of digital temperature control. You can digitally program the temperature of different areas within your freezer and fridge to ensure optimal storing of fresh and frozen foods.
Hire Professional Refrigerator Repair in Bronx
No matter how innovative and advanced your refrigerator is, time will come that you will need a professional refrigerator repair in Bronx, NY. The good news is that these repair technicians are always ready to attend to your repair needs of all sizes, not to mention that they are well-trained and knowledgeable about all aspects of the entire repair process.
Working with professional refrigerator technicians means that you can save time, expect satisfying results, affordability, and speed. Besides, you ensure appliance warranty and maximized safety. Regardless of the repair needs you have or how modern your refrigerator is, always expect for professional outcomes. Do not hesitate to contact your local provider of refrigerator repair in Bronx.