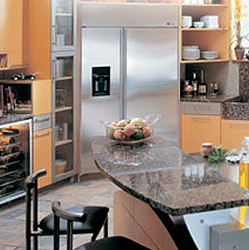 You need a refrigerator to keep your cold, as well as safe to eat. However, there are times that you neglect checking the condition of your refrigerator. So, you end up surprised that your home appliance is not working efficiently anymore.
If you do not want to end up wondering why your refrigerator is not cooling properly, you can consider the following tips.
SEPARATE YOUR HOME APPLIANCES
Having enough space for your home appliances is an advantage to prolong the service life of your refrigerator.
You can put your refrigerator away from other home appliances like a dishwasher or oven. That is because the heat being generated from these appliances will likely to force your fridge to work harder to retain a cold temperature.
INSPECT AND CLEAN
Did you know that the door gasket is vital for keeping your refrigerator run efficiently? It is recommended to inspect and clean the seal around your refrigerator door's perimeter.
If the gasket is not tight enough and fails to hold the ball securely in place, you can rely on an appliance repair New York City to help you replace the sealing.
NEVER SET YOUR REFRIGERATOR TO THE COLDEST SETTING
Some people make it a habit in setting their refrigerator to the coldest temperature to make their food last longer.
According to FDA, it is best to keep your refrigerator at or below 40 degrees Fahrenheit while the freezer should be at 0 degrees Fahrenheit. That way, you will be able to prevent higher energy bills and keep the fridge's compressor run longer to the appliance colder.
COVER THE FOOD
Do you always stash your uncovered food in your refrigerator? If yes, it is time for you to take extra effort to put your food to covered containers before storing them to your fridge.
By leaving your food uncovered inside your refrigerator, the moisture in your food will be released into the air, making it a hard time for the appliance to keep things dry.
NEVER PUT HOT FOOD IN THE REFRIGERATOR
If you have hot leftovers, do not get tempted to put them straight in the refrigerator. Take time to cool them down before storing them into your fridge.
Hot food can dramatically raise the temperature of your refrigerator. As a result, the compressor will work harder to cool the home appliance down.
KEEP MINIMUM GRAZING
Do you eat food while you are in front of your refrigerator? A frequent opening and closing of the door can put strains on your fridge and allow too much amount of cold air escape. So, it is better for you to open your refrigerator as necessary.
If you think your refrigerator has a serious repair issue, do not hesitate to look for reputable appliance repair NYC. That way, you can keep your refrigerator cooling properly once again.