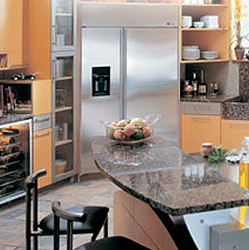 Having a professional refrigerator repair New York City is important especially during emergencies. However, it is necessary to ensure that the repair technicians use proper tools when repairing your appliance so that there will be no further issues.
When you look for refrigerator repairs in New York City, you primarily focus on the licenses and certifications, service cost, availability, or warranty. However, it is also an advantage if you are going to know whether the repair company is using appropriate tools.
One way of ensuring that you will be working with a reliable and professional repair technician is through the proper tools they use. This will give you the confidence that your refrigerator will run smoothly and efficiently once again. Thus, use of proper tools means there will no cause of damage during the repair process.
Here, you will learn the most commonly used by professional and licensed technicians when repairing refrigerators.
MULTITESTER
This device is specifically used to collect data about the electrical circuits. It effectively measures voltage, continuity, and resistance.
FLARING TOOLS
A flaring tool is a type of refrigeration tool that can be used in spreading the copper end in an outward manner until the flared is formed.
DIGITAL MANIFOLD
With the help of this device, temperatures and pressures can be tested, adjusted, loaded, and monitored.
OIL PUMP CHARGER
An oil pump charger is essential for removing or adding oil in refrigerators. This tool is also used for repairing air conditioning systems.
RECOVERY MACHINE
This is a device used to remove refrigerants from the cooling system like a refrigerator. This is also ideal for air conditioning repairs.
RACHET
A ratchet is a type of wrench having interchangeable sockets. This will help technicians to turn a variety of bolts and any other fasteners.
INFRARED AND POCKET THERMOMETER
The infrared thermometer is categorized as a non-contact temperature measurement tool while a pocket thermometer is ideal for the field as well as processing measurements. The two devices are effective for quick temperature verification.
LEAK DETECTOR
Using a leak detector, it becomes easier for the technicians to identify al HFC, HCFC, and CFC leaks.
FIN COMB

A fin comb is specifically designed to straighten the condenser and evaporator fins.  It can also clean dust and dirt to prevent overflows.
It is difficult to imagine that your refrigerator is not working. It is a home appliance used to keep some of your food items fresh and cool. So, it is important to find a dependable and reputable refrigerator repair NYC.
By seeking a help from appliance repair service, you will be able to eliminate future issues since technicians can identify the root cause of the problem. You can also find it cost-effective because you are not required to purchase necessary tools for repairing your fridge and the repair service is covered by warranty. Meaning, if another problem happens, you will be provided with immediate attention.
Always make sure that your refrigerator is on its best condition to ensure the safety of your food and your daily life will remain comfortable and convenient.