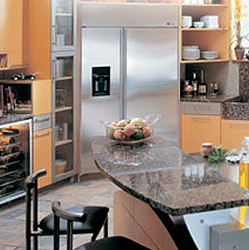 When buying a new refrigerator if you don't know the practical things that make a fridge valuable the process can become a bit confusing. So often we are marketed the wiz bang features and fancy colors and lose sight of features that provide true value for money. Appliance doctor of NYC is here to share some pearls of wisdom on features that are often overlooked when deciding on a new fridge.
Glass or Plastic Shelves
If you have done your homework and narrowed your selection down to a desirable configuration that has good insulation you can further enhance the efficiency of your purchase by selecting a model with glass shelves.
The benefits of glass shelves can't be underestimated. They will cost you a little more but the benefits far outweigh the additional cost.
Glass shelves are far stronger than the plastic alternative. Over time plastic shelves will become brittle and split while food stuffs will become embedded within the plastic staining it and causing a buildup of unwanted bacteria.
Glass shelves are far easier to clean and draw in the cold temperature of the fridge. Glass will hold in the cold long after the fridge has reached the desired operating temperature. The benefit of this is it will aid the fridges operating efficiency. Combined with good insulation and a tight door seal, fridges with glass shelves require the refrigerators compressor to switch on far less frequently than units with plastic shelves.
Appliance Doctor Appliance Repair New York City
Buying a fridge with plastic shelves will save you money on your initial purchase but chances are they will need to be replaced several times over the life of the fridge. Appliance doctor in New York City carries genuine replacement shelves and spare parts to suit most makes and models should your fridge be in need of repair.
Slide out fruit and vegetable crisper draws tend to be made of plastic regardless of the refrigerator. However fridges with glass shelves will always maintain a glass lid despite plastic or acrylic pull out shelves.