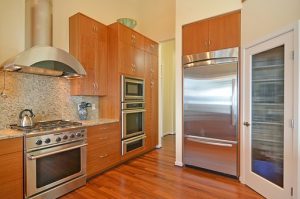 We're rarely ready for when appliances break down. We know it's a possibility, especially when they get old and cranky, but it's easy to assume the day of reckoning must be a long way off. So, when they do go, it can be a bit of a surprise.
Although, it's worth pointing out kitchen appliances hardly ever break down without warning. For instance, ailing refrigerators often have trouble reaching optimal temperatures. Some get hot to the touch because they're working so hard and using so much power.
So, there are signs. They're just easy to miss when you've got a busy work and home life to attend to. Fortunately, the Appliance Doctor is in your neighborhood and ready to provide fast, effective repairs. There are skilled technicians waiting at the other end of the phone.
The question is, should you choose repairs over a full replacement? When your fridge is on the fritz, what is the best course of action?
The Fastest Refrigerator Repair in Manhattan
The answer is the same whether you're dealing with a broken refrigerator, oven, or dishwasher. It all comes down to cost. As the average price of a fridge repair is less than half the cost of a new appliance, it's almost always worth looking for a fix.
The only time a replacement is the better option is when a fridge is so old and decrepit that it's just going to break again. Otherwise, most appliances can be repaired and go on to live many more years. The life expectancy of a full-size refrigerator is between 14-17 years.
Let the Appliance Doctor Fix Your Fridge
Two common culprits when fridges break down are the motor and the compressor. The Appliance Doctor offers affordable repairs for both parts and can get the job done quickly. Though, it's worth noting that, sometimes, motor issues are a little deceptive.
Unsteady voltage can cause the component to run at low capacity. If your motor is a bit sluggish, listen carefully for unusual noises. If there is a soft clicking sound, it indicates an issue with the relay switch. This causes the motor to cycle constantly between active and inactive.
If the voltage is below 110V, check the fuse or circuit breaker. It may be that the fuse has blown and just needs to be swapped for a new one. The cost of this repair is minimal, so it's worth a look before you go out and buy a new appliance.
Save Money on a Dishwasher Repair in Manhattan
Kitchen appliances tend to share similar features, so they're all eligible for repairs when parts break down. For instance, if it's your dishwasher that dies instead of your fridge, the Appliance Doctor is still the best place to go for a quick fix.
Certainly, if the damage is superficial – broken handles, shelves, or doors – you should always call a repair company, rather than splurging on a replacement. These machines are built to last, so why not get as much life and use out of them as possible?