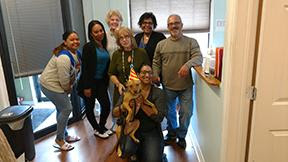 As many of you know from following our newsletters, Assistant Office Manager Alana Attanasio adopted Gino (the Pitbull/Pug/Lab/ Boston Terrier mix) from an animal rescue in Georgia in February of 2016. Well, this January Gino celebrated his 1st birthday with his new family and all of his friends here at the Appliance Doctor.
Gino can be seen (and heard) roaming the office of the Appliance Doctor everyday Monday-Friday, 8:30am-5pm. If you are speaking with one of our customer service representatives and hear some barking in the background, don't fret; it's just our trusty guard dog chasing off the "mean" mail lady and the FEDEX delivery man.
Since adopting Gino and having him as a part of the Appliance Doctor, he helps to bring some relief to the stressful work day and the seriousness of running a business.
So, if you're ever having a rough day, come visit us in Yonkers for some good ol' puppy kisses. Happy Birthday Gino! Here's to many more years of wet kisses, chasing tails, and bringing joy to everyone you encounter.