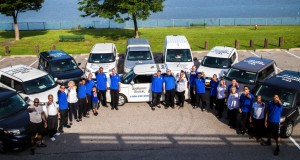 Whether you have a top loader or a front loader, you will need to clean it regularly to keep your clothes smelling fresh. Front-loading washers can often get a build-up of dirt or residues from softeners and detergents. Cleaning your appliance will keep it working efficiently. For all of your washing machine concerns contact the Appliance Doctor in White Plains. Here are our top tips for cleaning your front loader.
Follow the Appliance Doctor's Washing Machine Advice
When it comes to detergents and fabric softeners, less is more. Buy a detergent that is specifically for front loading machines and follow the recommended dosage or reduce the amount. If you choose to use a fabric softener, only use a small amount. More products don't make your clothes any cleaner, and it simply adds to the dirt to clog up your machine.
Prevent mold and mildew by removing your laundry as soon as the cycle has finished. Damp clothes can provide the perfect environment for mold and mildew. Leave the door open when not in use to allow air to circulate. The Appliance Doctor can assist with any maintenance issues.
Use a Reliable Appliance Repair Technician in NYC
The rubber seal should be cleaned weekly. Simply use a mixture of water and vinegar. A toothbrush can help get to the hard to reach areas. Then wipe over the drum. On a monthly basis pour vinegar into the detergent compartment and add a cup of baking soda to the drum. Run the hottest cycle with an extra rinse. If you have any mold or mildew problems, use bleach instead of vinegar.
Every few weeks, make sure you clean the drain pump filter. You may find hair, lint or stray pieces of fabric can clog the filter. You may need to do it sooner if water is draining slower than expected. It is usually located at the bottom of the face of the machine. If you require washing machine repairs in NYC, contact the Appliance Doctor.