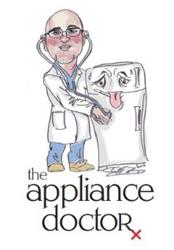 3 WAYS TO GET RID OF UNWANTED PILLING, LINT AND PET HAIR
Washing machines are designed to clean your clothes; however, pilling, lint and pet hair can still remain after a cycle. If you think your washing machine isn't working efficiently call the Appliance Doctor for all your appliance repair requirements. Here are 3 ways to get rid of unwanted pilling, lint and pet hair.
Use a Local Appliance Repair Expert for Your Washing Machine in New York City
Pilling is what gives clothes a bobbly look. Threads can come loose and tangle up causing this appearance. Even though it doesn't damage the clothing it's not a great look either. To get rid of pilling simply run a sharp blade over the fabric. You could also try a kitchen scourer. If it's becoming an issue you could purchase a purpose made fabric shaver. Washing machines can take their toll on your clothing, if it's no longer cleaning items reach out to the Appliance Doctor for their expertise in NYC.
The Appliance Doctor's Washing Machine Advice
Lint is another problem you can encounter with your clothes. These are threads that have detached and move around when washing so they can show up on all of your items in the cycle. It not only looks bad but can be problematic for allergies when breathed in. A buildup of lint can pose as a fire hazard when you come to stick your load in the dryer. Lint rollers, lint brushes or sticky tape can be rubbed on the offending items to remove the lint. Fabric softener or vinegar can help during the cycle to prevent lint from sticking.
NYC Residents Rate the Appliance Doctor for Appliance Repair
Pet hair is similar to lint as it moves around during the cycle, looks bad and isn't ideal for others with allergies. Simply using a wet rubber glove to wipe down the surface will help get rid of pet hair. Washing machines generally experience heavy use and can often need repairing. If you need appliance repair in NYC contact the Appliance Doctor.
Follow the above tips to keep your laundry looking its best after repeated washing machine cycles. For any washing machine repair enquiries contact the Appliance Doctor in NYC.