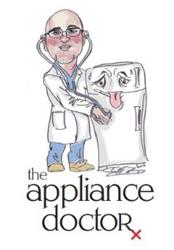 How to Keep Your Appliances Protected During Winter
The winter months have arrived, and people all across New York City are bundling up and staying in to try and keep the cold at bay. Of course, it isn't just us humans that suffer when the temperatures start to drop – colder climates can really have a negative impact on household appliances. The Appliance Doctor knows that house-calls can peak under such conditions, so here's some preventative winter medicine for your appliances.
Call The Appliance Doctor for New York City Appliance Repair
Pretty much the simplest way to keep your appliances happy during the winter is by maintaining a stable indoor temperature. Of course, you're likely to have the heating on when you're around, but the need for New York City appliance repair can be avoided if you leave it on when you're away from the home. You don't have to leave things quite as warm, but a temperature of around 55 degrees Fahrenheit is best. That should keep components and pipes from contracting and cracking.
The Appliance Doctor Keeps New York City Appliances Healthy
Heaters are great, but they won't be as effective if your home isn't properly sealed. Go around the edges of windows to make sure there aren't any cracks or gaps for drafts to enter. Cover up any that you find with a caulking gun. While you're doing this, be careful to check around and behind larger appliances. People often fail to discern a draft because an appliance is blocking it, but that appliance will still be bearing the brunt of the incoming cold air.
Depend on The Appliance Doctor for New York City Appliance Repair
Lastly, make sure you wrap up any pipes that aren't hidden within walls. Appliances like dishwashers and refrigerators often have exposed pipes, and these can freeze when it gets cold. Try wrapping them with insulating materials to see that they are as protected as possible.
Of course, even the most exhaustive preparations can sometimes fall short, but you can always contact The Appliance Doctor for New York appliance repair if any problems do occur.