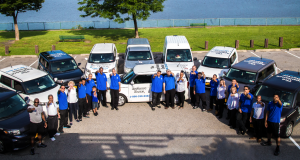 You're in the cleaning products isle at your local grocer. All the liquids and powders emit a strong cleaning chemical odor. You want to grab and go before you grow a third eye from all the compounds absorbing into your nose. Between the powders, gel, liquid, packs, and tablets, which dishwasher detergent type should you grab? Here's the rundown.
Powder Automatic Dishwasher Detergent and Repair in White Plains
Powder dishwasher detergent is an old-fashioned staple for dishwasher owners. The powder isn't pre-measured so it's easier to spill or overfill your detergent tray. It's more difficult to dissolve and dissolves best in warm water. Powder generally doesn't leave a residue and is a good option for you if you can't resist prewashing your dishes. On the upside, powder detergent is the least expensive option.
Liquid and Gel Automatic Dishwasher Detergent and Repair in Yonkers
Liquid and gel dishwasher detergents aren't premeasured but might offer more control from spilling and overfilling. They dissolve easily in all water types, work well on greasy foods and stains, but can leave a film on dishes. Using too much liquid is known to clog up dishwasher parts. Liquids and gels are more expensive than powder, yet less expensive than a premeasured pack or tablets.
Pack and Tablet Automatic Dishwasher Detergent and Repair in New York City
Pack and tablet dishwasher detergents come in premeasured pods of either powder or liquid. When they come into contact with moisture, the outer packaging begins to dissolve. These are easy to grab and go, but must be handled with dry fingers and kept in a moisture free place so they don't melt into each other. Packs and tablets come with boosters including rinse aids and scents. Since they're easy to dispense there's no spills and waste, however one size fits all, so they can't be altered for lighter loads. They dissolve best in soft water and are good for those who don't prewash their dishes. Pack and tablet dishwasher detergents are the most expensive option.
Consider each detergent type option according to your lifestyle. Ultimately, make sure to check which type is recommended by the manufacturer of your dishwasher. Any dishwasher problems? Call the Appliance Doctor!