A common bond amongst New Yorkers has always been a unique sense of community shared amongst its residents. Expert knowledge and first class service from the trusted names in local business have stood the test of time and share this same ideal. Appliance doctor has been faithfully serving the local community for over 30 years and established the reputation as New York's premier appliance repair specialist.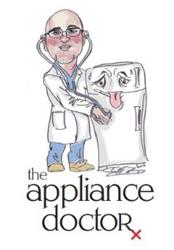 The Appliance doctor understands the needs of his patients and goes beyond merely making house calls for appliance repair. The doctor's prognosis is prevention is always better than cure. To support this diagnosis and go above and beyond a standard dishwasher or oven repair the appliance doctor has introduced a preventative maintenance program by way of his Total Care Club.
Priority Status New York City Appliance Repair
One of the great things about being a member of a club is the exclusive rights to certain benefits. Becoming a member of the Total Care Club at appliance doctor offers practical benefits that will save you time, money and peace of mind. Appliance doctor has rolled out a healthcare plan for your appliances that even congress could agree on. In the commercial sector, scheduled service calls are a well-established practice as the downtime of any major appliance would create a devastating effect on a business. Experts agree that periodic maintenance will not only extend the duration of your major appliances but also reduce running costs and mitigate the chances of a critical malfunction. At appliance doctor this service is administered at a domestic level. That's right as an exclusive member you will receive the peace of mind and convenience of scheduled preventative maintenance.
Appliance doctor's rates are renowned to provide the best value for all New York City appliance repair. As a member of the Total Care Club you will enjoy further reduced rates on any unscheduled service calls and additional member discounts off all work done. You will receive priority scheduling and extended warranties on parts and labor. The choice is clear and the customer reviews concur with first class friendly service, factory approved technicians and expedited service. Is it any wonder that appliance doctor sets the standard for New York City appliance repair?