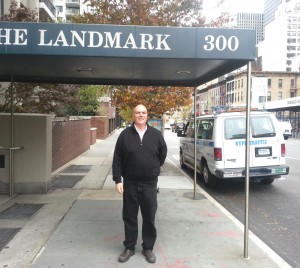 Every other month, the Appliance Doctor chooses one remarkable person to highlight for their outstanding work and leadership abilities, along with their dedication to the Appliance Doctor and the values we stand by. It is my honor to introduce to you this month's honoree, Charles "Charlie" Wilster, Resident Manager of Landmark Owner's Inc.
Charles has been with the Landmark since 1998, but has been in the managerial industry for many years. His real estate career started right after high school back in 1974, and has been non-stop since then. He is a dedicated member to both the Emerald Guild and the New York Building Mangers Association; two extremely reputable organizations in the field of resident management.
When asked about his greatest achievements as a resident manager, Charles shared with me the night he saved a friend of his who had actually died in his building. With the use of a defibrillator and his training as a member of CERT (Citizens Emergency Response Team), a program associated with FEMA, Charles was able to save a life and was recognized by FOX news for his bravery and heroic actions.
Although his job means the world to him, when he's not working, Charles enjoys spending time with his wife and their pets. He is an avid golfer who also finds solace in enjoying the outdoors as a hunter and fisherman.
This holiday season, if you find yourself roaming around East 59th Street, keep your eyes and ears open. You may find Charles dressed up as Santa Claus bringing happiness and holiday cheer to his tenant's children as he's done for the past 15 years for the buildings annual Christmas lobby party. When asked about what his job meant to him, Charles response displayed the positivity that every dedicated resident manager should possess on a daily basis:
"The people in my building are my extended family. Everyday, I try to help everyone to the best of my ability"
Charles "Charlie" Wilster
Landmark Owner's Inc.
300 E. 59th Street
New York, NY 10022