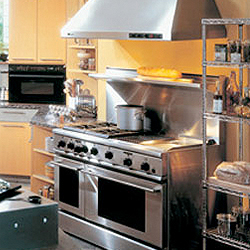 A broken oven can be more than just an inconvenience; it can actually jeopardize your safety, especially if you're trying to cook with a malfunctioning oven at high temperatures. If you have any doubts about the performance of your oven, schedule an appointment with our Oven Repair in New Rochelle team immediately. You never know when it could be too late for early detection and repair!
How to Tell if Your Oven Needs Service
If you're having issues with your oven, there are some simple tests you can run to determine whether or not it needs service. In most cases, a repair is necessary only if:
(1) your oven won't ignite;
(2) your oven won't heat up past 400 degrees;
(3) your oven makes a loud buzzing sound;
(4) your oven flashes a red indicator light and doesn't turn on.
These indicators could mean that your oven's igniter has gone bad, which will require professional attention. You should also call an oven repair technician if you notice any of these signs:
smoke coming from your oven;
food burning on one side of your oven while remaining raw on another side; or
food taking longer than usual to cook in your oven.
Why Do Appliances Break Down?
Appliances are relatively cheap when compared to other major purchases, but that doesn't mean they should last forever. The most common reason for breakdowns is because of poor maintenance—do you remember what we said about oven repair Yonkers? Homeowners need to clean their oven regularly and keep it well-maintained. Other reasons include using appliances incorrectly or leaving them on for long periods of time, which can burn out components like your exhaust fan motor.
How We Can Help
When you need oven repair at Yonkers, there's no better choice than our oven repair service. We come prepared for all sorts of issues, whether your oven just isn't heating up or it's blowing smoke. Just give us a call and we can help you out today! You may have heard horror stories about other companies who take forever to respond; not our company! At Oven Repair in New Rochelle, we pride ourselves on speed and efficiency.
What Will Happen During Our Service Call
When you schedule an appointment, one of our technicians will come out to your home. He or she will then thoroughly inspect your oven and take note of any pre-existing damages. Additionally, they'll look for signs of wear and tear that may contribute to a breakdown later on down the road. After examining your oven, they'll give you a comprehensive report of their findings and explain what they recommend as far as repairs are concerned.
What Are All the Components of an Oven
Before you can determine if your oven needs repair, you need to know what makes it work. Most ovens operate based on convection or conduction technology. The difference between these two systems has a major impact on how your oven operates, so it's important that you know how yours works before calling an oven repair technician.
The Best Way to Maintain Your Appliance
Appliances are a big investment, so proper maintenance is key. Here are some tips for using and maintaining your oven properly. First, clean it regularly. The oven racks can collect a lot of grime over time that can prevent even baking; take them out and give them a good scrubbing every couple of months (you might need an extra brush if you have sticky spots). Next, turn off your oven when you're not using it. This will save energy as well as help keep food from drying out or burning; when you do turn it on again, set it to its lowest temperature setting to preheat rather than full blast.
Summary
You don't want to use your oven if it is not working properly. This can affect you in a number of ways, such as eating out more often and wasting food when it goes bad while sitting on your countertop. It also increases your energy bill because you will have to run other appliances more frequently. If you notice that your oven is not heating up like it used to or seems otherwise off, contact our team at Oven Repair in New Rochelle today for professional service. We are available 24/7 and ready to help!