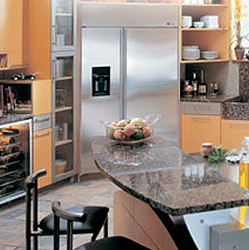 You can get for a week or two without some of the appliances inside your house. Even though inconvenient, you can wash dishes by hand or go to the closest Laundromat to clean your clothes. However, your refrigerator is another story.
When this vital kitchen appliance stops running the way it should, you cannot afford to waste time waiting for it to be fixed. Even one day's delay can cost you hundreds of cash in lost frozen and fresh foods. Do you make the needed refrigerator repair on your own or spend extra cash on a professional refrigerator repair Manhattan provider?
What Are the Factors to Consider?
It will depend on the kind of refrigerator you currently have, the specific concern, and whether you are familiar with the appliance's parts and their function. Take note that a fridge repair problem that involve frost buildup and incorrect temperature can be easily solved by changing the door switch, aligning and tightening door hinges, or changing a worn door gasket.
What about if you are not familiar with the ins and outs of such more complicated problems? Then it could be time to get in touch with your local refrigerator repair Manhattan NY service.
Call a Professional If You Experience a Short Circuit
You will find another case where you may like to call a professional. Get in touch with a professional if you experience a short circuit in your appliance's wiring. That can happen when testing the operation of the thermostat control installed inside the unit.
Is the fridge's compression continuing to work after the thermostat wire has been detached from its terminal? Then you have a short circuit that needs the expertise of a dependable technician. Trying to fix this kind of issue or other electrical problems could be dangerous and lead to a severe shock.
Other refrigerator repair components, which are best left to a refrigerator repair expert, are the following:
Sealed motors and compressors
Coolant leaks
Specific types of drain ports
Evaporator fan
Won't your fridge cool properly? Maybe a malfunctioned evaporator fan could be the culprit. Try to straighten or unblock the fan blades. If that fails to fix the situation and the fridge's door switch runs well, you need to call a Manhattan refrigerator repair professional.
Keep in mind that drain ports on some models need a huge deal of dissecting to remove the clogs of debris and ice. You can consult the repair manual for guidance if the evaporator coil locates the drain ports. Still, it's best to seek the help of a professional.
With some refrigerator repairs, you don't have an option to call a professional service provider. Attempting to troubleshoot such concerns on your own isn't a good idea.
Hence, do not add to the high cost of spoiled food by fixing your refrigerator problem. Often, it's your best interest to call in a dependable service professional to prevent possible electrical risks, stop your food from going back, and extend the life of your hard-working appliance.