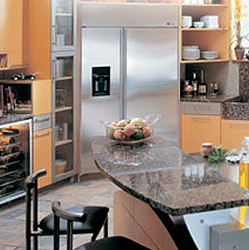 Whether your refrigerator is making some sounds or you notice some leaks or other issues coming from it, the main solution might be quite simpler than we think.
Here are some of the refrigerator most common repair service:
Unclogging air filters or motors
Replacing the thermostat
Replacing the electronic control board
The best refrigerator repair White Plains can easily diagnose most issues that refrigerators develop NY and are often fixed the same day, most times in less than an hour if the parts are readily available. A minor refrigerator repair as this one is certainly not expensive as replacing the entire refrigerator.
How old is the Refrigerator?
Whether you bought the refrigerator, or you didn't have an idea when it was purchased, you should put the age of the refrigerator into consideration before deciding to either repair or replace it.
An old refrigerator that is acting up might just be giving a signal of the end of its life span. Replacing an old refrigerator might save you a whole lot of cash because buying a new one in the long-run will be more energy-efficient and need less repair over the years.
Some refrigerators, however, might require repair more often than the other. For instance, a side-by-side fridge with ice makes is one of the refrigerators with a lot of problems and require repair most times.
If you're planning to buy a new fridge, you should consider the type of refrigerator as well as its Energy Star rating to ensure you're getting the best value.
DOES YOUR REFRIGERATOR BREAK DOWN?
Instead of jumping off and thinking of ways to get rid of the refrigerator, why not contact a refrigerator repair in white plains NY to help you take a look at your appliance. Replacing a refrigerator might be a better option for you, but also comes with its downsides. Seeking the service of a White Plains refrigerator Repair Company will not only save you cash, but also save you the stress of going to the store to get a new refrigerator, reading reviews to know which refrigerator suits you, and having to learn how to use a new refrigerator.
You're already familiar with the one you have; getting familiar with a new one will take quite some time, which would have been avoided if you called a refrigerator repair white plains company.
Whether you're noticing the problem for the first time or you're merely tired of the refrigerator break down, a professional and experienced refrigerator repair white plans NY can help.
The qualified professionals at refrigerator repair White Plains NY Company will assess your fridge and give you the best refrigerator repair plan or replacement recommendations that will help you save money in the long-run.
The choice to call White Plains refrigerator Repair Company or replace appliances is up to you, but first checking with a refrigerator repair White Plains NY and getting professional advice can go a long way in pointing you in the right direction.