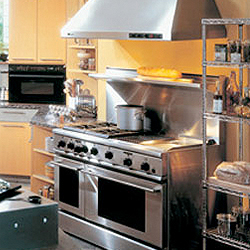 Your appliance will come through when you need them to do their job—and they may do that for a long time to come. But you'll need to repair them at some point when breakdown interferences with their daily operations. Bronx residents know better. By spotting an appliance repair early, you could save tons of money, and appliance repair Bronx can make that happen. You must pay attention to how well your appliance is performing. Otherwise, you may be footing high energy bills. If you keep your eyes to the ground, the signs that you need an appliance repair will become evident to you. At this juncture, you can take action (or fold your hands and watch) and save yourself huge money from replacing the appliance. This post brings to the fore the visible signs that you need home appliances repair in Bronx and its environs. Relax; take a glass of water and read on
When your Appliances don't come on
Some visible signs that you need an appliance repair in the home are not far from you. Your appliance may stop their daily routine owing to a single problem. If your refrigerator or dishwasher refuses to turn on, then you might need an appliance repair Bronx NY.
If you refuse to take action or pay attention to repairing your appliance, the consequences may be too much to handle. You may pay more in water bills because dishwashers are far more efficient than washing using your hands. If you then decide to do the needful, you'll save yourself a lot of stress and headaches.
What if the signs are not visible? For example, if the appliance turns on and does not function properly— that could result in a serious issue. In such cases, take your time and look for those signs that may not be obvious. If your oven takes longer to cook your meals, then Bronx appliance repair may be the solution. When left unattended, you may need to buy a new one and spend money you could have channeled to other needs within the home.
Increased Energy Bills
When your energy bills increasingly gain the numbers, then you need to think twice. Even if you don't notice your dryer taking a long time to dry up clothes, increased energy bills will never go unnoticed—when the cycle takes longer than usual.
Check your appliances for an abnormally – if they're not working at optimal condition. Your AC could be doing too much work, and appliance repair Bronx will come handy at this point.
Conclusion
Protecting your financing when you notice you need repair work done on your appliance is to call on the experts. If you wait longer, you may be shooting yourself in the foot because the problem may degenerate within the short-term—and you'll have yourself to blame. Take that bold step today and get an appliance repair Bronx NY that will guarantee your appliance working in perfect conditions and in no distant time.