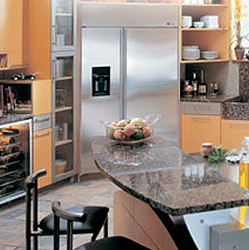 It is frustrating when one of the major appliances in your home stops working. When the appliance in our home breaks down, your major concern is for how long will you be without using that particular appliance. Secondly, what is the cost of repair or replace it? It is disheartening, when this appliance is your refrigerator – you can't do without it for long. On the other hand, replacing it would not be cheap. Before calling a refrigerator repair NYC, you should be able to determine if their service is necessary.
Below are a few things you can do before you decide to call a specialist. These things can help you save money.
CHECK THE POWER SUPPLY
As ridiculous as this might sound, you should check to make sure your refrigerator is plugged in and if it is done properly. In case you have children or pets, or you have your refrigerator in an area where there is high traffic, the possibility of disconnection from the wall socket is very high. If you're having the case where your door light is not coming on, you should check your DB board. A power surge can be the cause of this, so you should try to check and clip your switch to reset it.
CHECK THE TEMPERATURE DIAL
This isn't something to call a refrigerator repair New York for. Living with other people can be the major cause of this. This is because there is always a chance of someone changing the temperature settings in the fridge. This temperature dial is a small dial inside the refrigerator which controls the settings. Check to see if it is properly set.
CHECK THE SEALS
If you're experiencing a problem of a puddle of water around your refrigerator, you shouldn't run to call a refrigerator repair NYC, you should make sure the door of your appliance is shutting properly and that the seals are in perfect condition. If your refrigerator does not seal properly, warm air can find it was in, causing the ice to melt.
DOES IT NEED TO BE CLEANED?
Cleaning your refrigerator does not require the attention of a refrigerator repair New York City. If you have dust and debris collecting at the bottom of your refrigerator, at the place where your condenser coil is, there is a chance that this will stop your appliance from working perfectly. Before calling the specialist, do a good cleaning of your refrigerator and check the performance after then.
YOUR REFRIGERATOR IS TOO FULL
It is true that when you keep your freezer full, it increases its efficiency, but that not true for a refrigerator. When your refrigerator is full, it gets difficult for air to circulate properly. If your food is not staying cool as you'd love, you should try removing some items, to see what happens next and see if it helps.
CONCLUSION
Refrigerator repair in New York City can be quite expensive. So, make sure that before calling a refrigerator repairman, you try out these few actions listed above. A lot of trouble and money can be saved using these tips. If you still can't get it to work, then you can contact your NYC refrigerator repair company.