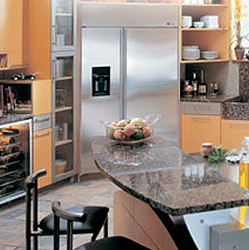 Refrigerators are reliable appliances where you can safely store foods. Having this appliance is beneficial for savings, health, and for overall comfort and convenience. Refrigerators are simple to take for granted until these breaks and the foods store here starts to rot. It would be best to call an expert to repair your refrigerator and ensure that the right and the safe temperature is maintained.
Is Your Refrigerator Cooling Properly?
Opening the refrigerator and realizing that the contents and foods inside are warm instead of cool is one of the worst nightmares of homeowners. These individuals do not just worry about being spoiled but also worrying and wondering why their refrigerator is not cooling properly. There might be a wide range of issues and factors that can make the refrigerator problematic and malfunctioning and not cooling properly. Good thing is that there are steps one can take when his refrigerator is not cooling.
But if you want more reliable results, it would be best to seek professional refrigerator services.
Other Problems Fixed by Refrigerator Repair
Aside from refrigerators not cooling properly, refrigerator repair can also fix the following problems:
Leaks
Erratic temperatures
Ice built-up inside the appliances
Damaged coils
Broken compressors
Ruined water filters
Broken door seal
Refrigerator Repair NYC Handles and Fixes these Problems
Do not let refrigerator issues spoil your foods. Use Refrigerator Repair NYC anytime your refrigerator malfunctions, or it fails to cool properly. Trained and experienced technicians handle these refrigerator repairs, so you can expect only for the best results. Why waste energy or risks food spoilage if a quality and reliable repair are available in NYC?
Call expert technicians right away to take care of the problems of your refrigerator. Regardless of the type, style or make of refrigerators, technicians can work on the problems and get your fridge back on track once again. If you are living in NYC and your refrigerator break downs or malfunctions unexpectedly, Refrigerator Repair NYC is available to back you up. Works will be done and completed in an expert and timely manner.
Call the Experts for Help
If you need to have your refrigerator get repaired today, contact the most trusted company and book for Refrigerator Repair New York City. Expert technicians will fix the problem regardless of what the problem is. All problems like having bottom mount refrigerator, side by side refrigerator and other styles will be handled.
Technology, type, or design makes no difference for technicians are extensively experienced and trained to repair them all. So, you can be confident and sure of the excellent results if this refrigerator repair service can give.
Refrigerators are ultimately important. If problems occur, you have to make sure that you will invest on speedy, efficient and quality service such as Refrigerator Repair New York City, so that excellent function is maintained along with the right cooling temperature. In such a case, you will not end up wasting foods and suffering from unwanted foodborne illnesses.