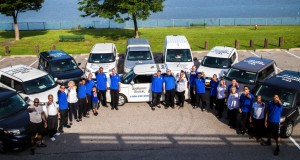 Most homeowners are tempted to purchase the cheapest appliance to avoid unnecessary cost. In reality, the expenses tend to increase because of constant replacement. Experts encourage everyone to buy the highest-quality brands for huge savings and comfort.
Despite the quality of appliances, they are more likely to malfunction over a long time of use. It's normal because there are no such things as a long-lasting investment. One good example is a washer. Sometimes, its cabinet makes a horrible racket throughout the spin cycle. Most homeowners simply readjust the legs. Well, it's good. Still, you may worsen the problem.
Other appliance problems are listed below:
Garbage Disposal
Disposals shut the power off when the motor gets overloaded or too hot. It's very inconvenient to experience all day long. For some, they make garbage disposal a D.I.Y project. It's not ideal. It's always a wise idea to count on an Appliance Repair White Plains, NY.
On the same day, an expert specialist from a reputable company can finish the job. You can say bye to discomfort and bring back a high level of convenience right away.
Garbage disposal may not spin or hum. Perhaps, the appliance may have something stuck in it. For you to know the root cause, let a professional handle the problem. Appliance Repair White Plains has a thorough inspection and relevant solution. It's equipped with cutting-edge materials for a hassle-free project.
Refrigerator
On a long summer season, cold and sweet beverages are perfect. But a malfunctioning freezer can be a headache. Despite your extensive maintenance, the appliance may conk out on a hot day. The most common reason is pet hair on the coils. These tools are the black tube-and-wire grid that cools the fluid in the compressor.
At first, the coils are very functional. As the days pass by, there will be a buildup of hair, causing the compressor to overheat and trigger the overload switch.
On most fridges, White Plains Appliance Repair will typically push a cleaning brush into the coils and vacuum it clean. It sounds simple, isn't it? That's why other homeowners in the city are tempted to fix the problem themselves. But the process is not as easy as you think. Only a professional specialist can make the process convenient and error-free.
Gas Stove
Nothing is more disappointing than an inefficient gas stove. Whether its dinner time or you can't prepare the food because of a damaged stove, it's going to be a burden. You need to go out of the house and buy pizzas instead.
As with the freezer, a gas stove is a necessity. It's important to be proactive when something goes wrong. It's wise to contact White Plains Appliance Repair as soon as possible. Every time you're ready to cook, things will flow according to expectations.
Some homeowners decide to fix their appliances. With the belief to acquire huge savings, they end up spending costlier expenditures. Looking for the most reliable appliance repairs White Plains? Don't look further than Appliance Doctor. Get in touch with us today and see how we bring your comfort back.