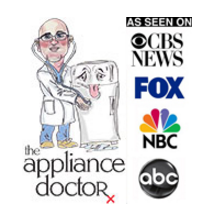 Dishwashers are very convenient as you can throw your dishes in and wait for it to come out clean. However, a malfunctioning or broken dishwasher can cause a lot of inconveniences. When you see the first sign of a problem, you should find an appliance repair technician. Whether you need dishwasher repair NYC or dishwasher repair Yonkers, you should find a technician who can deal with various dishwasher problems.
Drain problems and extended wash cycles might be keeping your appliance from providing your desired results. A professional appliance repair technician can help you identify the problem and provide an immediate solution to it. Here are some of the most common dishwasher problems.
Unit Doesn't Fill with Water – The dishwasher may not be filling with water due to a broken overflow float switch, faulty water inlet solenoid or damaged valve.
Dishes Not Properly Cleaned – When the dishwasher cannot clean the dishes properly, it might be due to a worn heating element, burned-out wash impeller or pump assembly or clogged spray armholes.
Leaks – Leaks can be caused by using incompatible or too much soap, leaking motor assembly or worn spray arm assembly, door gaskets or tub-to-motor gaskets.
Cloudy Glassware – Hard water can cause the glassware to come out cloudy. You might need to use a water softener to solve this problem. Cloudiness may also indicate user error.
Extended Wash Cycles – A unit that runs too long may be having a hard time completing the cycle due to a broken timer or thermostat.
Water Won't Pump Out – A worn drain impeller or drain solenoid or blocked drain line can prevent water from being completely removed from the dishwasher.
Doing the dishes is never a fun task. When your dishwasher breaks down, you should do your best to determine the problem correctly so that you can troubleshoot beforehand and explain the issue to a professional technician. It is also essential to know the model number, brand and make of the dishwasher. You can search for this information online and find forums where people post about common dishwasher defects or issues.  Doing so can give you useful troubleshooting tips.
You should also prepare before the service technician arrives. Unplug the dishwasher, turn off the water source and clear the space for the technician. This reduces the time needed to complete the job, which is particularly beneficial if you're paying by the hour. It is also crucial that you choose a qualified appliance repair technician. Read testimonials on review sites or call the repair company's past clients. You can also ask for recommendations from your realtor or homeowners association.
Don't forget about any additional fees you may incur. Extra labor might be needed for removal and installation of dishwasher or replacement of internal mechanisms. Ask the repair technician about these matters before hiring them. This can help you prepare for the repair and avoid extra fees.
Whether you are looking for an expert in dishwasher repair Manhattan or dishwasher repair White Plains, you can definitely find the right choice by following the tips stated above.