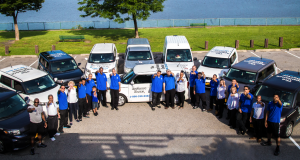 A fridge or refrigerator has thermally insulated compartments that let you store food that last weeks and even months. Extended food storage is beneficial for your wellbeing and eating preferences. It also saves you a considerable amount of money. This kitchen appliance should maintain a temperature between 37 ° to 41° F to make sure that the bacteria reproduction rate is slowed enough for the food to stay fresh and good.
In Bronx, NY, a lot of homeowners viewed refrigerator as one of the most valuable kitchen appliances. Being the focal point of your kitchen, it is very essential that you keep your refrigerator in a good working condition. Since this kitchen appliance is utilized every day to preserve ingredients, store foods, and keep drinks cool, ensure you handle issues right away. If not, you will end up losing a huge amount of money on food waste and even experience illnesses.
Appliance Doctor X is here to ensure your refrigerator keeps on running efficiently. They are your reliable company that offers unmatched refrigerator repair in Bronx, NY. They will help you fix the issue no matter what it is on time and at a very reasonable price.
Types of Refrigerators and Appliances that the Repair Company Restore
This refrigerator repair Bronx service provider employs technicians that are experienced in handling a complete range of fridges and common issues with these kitchen appliances. They can ensure that your appliance is working smoothly again.
The expert technicians work an array of refrigerators which include:
Top freezer refrigerators
French door refrigerators
Bottom freezer refrigerators
Side-by-side refrigerators
Freezerless refrigerators
Compact refrigerators
Built-in refrigerators
Refrigerators
Regardless of the type of your fridge, the professional refrigerator repair team in the Bronx can get to work immediately addressing any issues you have with this kitchen appliance.
From broken or damaged parts to full service, they are here to handle the repairs, maintenance, as well as everything in between.
They are also expert in replacing diverse parts of your refrigerator such as:
Water filters
Thermostats
Replacement bulbs
Defrost heaters
Ice maker components
Cold controls
Condensers and compressors
Door switches
Seals
Fans and evaporators
Solenoids
Drawers, bins, as well as shelving
Valves
Fridge Repair or Replacement?
If a repair is too challenging or you cannot point out what the problem is, consider having a professional do the repair. This is an extremely beneficial approach, as newer refrigerators might just need minor repairs, small adjustments, or tune-ups.
On the other hand, if your appliance is many years older and likely struggling because of wear and tear, replacement might be a viable and financially savvy solution. Instead of paying for frequent repair and regular maintenance, taking that fund and investing it in a new appliance is a smart decision as it can save you time and money from expensive repairs.
If you call a professional refrigerator repair company in Bronx, NY, they can diagnose your appliance and determine whether repair, adjustment, tune-ups, or replacement is required. Call them now to know how they can help you with your problem.