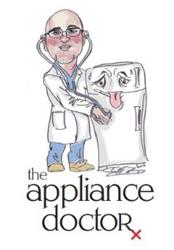 How to Drain a Washing Machine by Hand
Unfortunately, washing machines will sometimes stop working in the middle of a cycle. This isn't just inconvenient because you're left without a washing machine until the Appliance Doctor can arrive; you'll also be faced with the fact that your clothes are still inside, along with a healthy amount of soapy water. If you find yourself in that situation, just follow these tips to drain the machine by hand.
Make The Appliance Doctor Your First Port of Call 
Start by getting together everything you need. It's easy enough – just find a bucket and towel. You should then make sure that the washing machine is unplugged, or at least switched off from the electrical point if you can't physically detach it from the power source. Next, look for the drainage pipe. The water should empty into this upright pipe, and you'll normally find it either under the laundry sink or right next to it. You will probably need to move the washing machine itself to reach the pipe.
The Appliance Doctor Knows All About Washing Machines
Now that you've found the pipe, pull the outlet hose out of it, making sure you keep the hose upright to prevent water from spraying all over the floor. Instead, lower the hose into the bucket; water should start to flow out without you taking any further action. However, it's possible that there will be more water to empty than the bucket can hold, so have someone raise the hose once again if this happens. You can drain and replace the bucket if it does.
The Appliance Doctor is Trusted All Over New York
Continue until the machine is fully drained. If the water flows slowly, it might just be because you were near the end of the cycle. If the water won't flow, it could be because the filter is blocked. If this is the case, contact the Appliance Doctor before doing anything else.
The great thing about The Appliance Doctor is that one of their highly-trained team members can usually be with you on the very same day you call, so there will be no need to forlornly stare at clothes trapped in the washing machine. Pick up the phone or jump online and give the doctor a call.