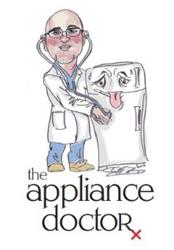 The longer you wait to call for appliance repair, the more you will suffer. Watch for the warning signs that something has gone awry with one of your appliances.
Refrigerator Repair Manhattan
One evening you come home from your Manhattan office in your favorite suede heels (or loafers) and reach into the refrigerator for a diet soda only find yourself standing in a puddle of water. Or, you're gazing at the Manhattan skyline with a glass of wine and from the kitchen you hear the refrigerator motor clunking, revving up, thumping, or suddenly stopping altogether. It's saying to you, "Call the Appliance Doctor."
Appliance Repair Bronx NY
One Saturday you get home after a relaxing manicure in the Bronx. You dishwasher turns off, and careful of the heat, you reach inside for a sandwich plate. But it's cold and wet. Or, you gingerly put some dishes in the dishwasher and can't get the latch to close and seal. Call the Appliance doctor before you ruin those freshly painted nails doing dishes by hand.
Washing Machine Repair New York City
You don't have any clean clothes for your NYC job in the morning. You throw your work clothes in the washer, pour in the detergent, and start the machine. But only a thin stream of water comes out. Or, the machine starts, you step out and when you come back the machine drum has shaken so hard the whole machine has walked itself to the middle of the room. Call the Appliance Doctor before you're forced to go to the dreaded laundry mat.
Yonkers Appliance Repair
It's a humid day in Yonkers with occasional showers, and you know your clothes will just mold on the line. You throw a load into the dryer and push start. When you return in an hour, you notice the clothes are warm, but still in a wet pile. Or, the minute you leave the room you hear thumping and banging. The Appliance Doctor makes house calls even in wet weather.
Give yourself a break. There's no need to order new shoes, ruin your manicure, go to the laundry mat, or wear moldy clothes. Call the Appliance Doctor today!