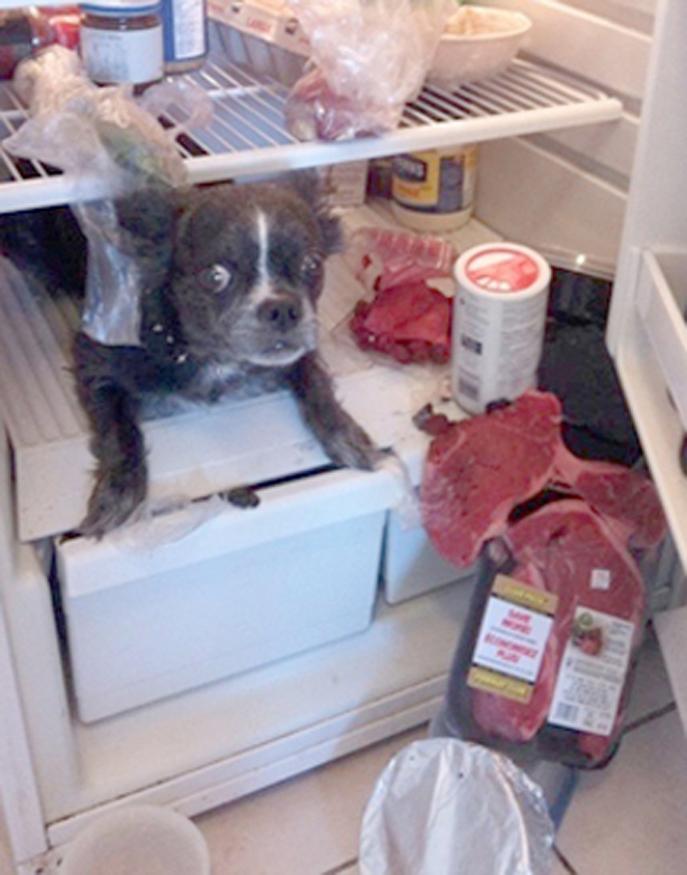 According to blogger Ninjajedi from Great Britain, one picture really is worth a thousand words, and in this case a thousand very cold words, not to mention a bark or two.
The name of this poor frightened pup is unknown, but her owner told the press that this escapade caught on camera probably began as a need to hide from the noises associated with the brickwork occurring on the building's exterior. This little dog is only guilty of seeking a quiet hide-away far from the maddening crowd, so to speak.
There's no question that it is an ideal spot to hide if you don't mind a cold rear-end, icicles on your fur and frost on your breath! Those uncooked steaks are so near; there just for the taking, and yet she seems focused only on being discovered. The real question is: how did the dog get inside the fridge?
Her owner has no idea. They say necessity is the mother of invention and perhaps the dog knows this. Then again, maybe she learned the words, open sesame, or just bit on the handle and it opened. Of course, she also closed it. How did she do that?
Some things are cold cases and this is apparently one of them. Of all the things that can go wrong with a refrigerator, at least this one doesn't require appliance repair and is by far the cutest problem ever! Conceivably, the poor little dog could become frozen protein herself if she remained inside long enough. While it is clear that she can open the door from the outside, could she do the same from the inside if she got too cold?
Refrigerators can and do take a lot. They are always on; never get a vacation break or bonus or even a pat on the very cold back. Just ask any appliance repair specialist. Still, keeping a dog cold is not on the roster of appliance repair jobs. If it happens often enough however, maybe it will be added to the already intensive training appliance repair specialists undergo.
If your dog is in trouble, the Appliance Doctor probably can't help you, but if your refrigerator isn't feeling well and you happen to live in the Manhattan-Bronx or Westchester areas of New York City, give Anthony a call. His highly-trained staff of technicians are on hand to help resolve any appliance repair trouble. He can be reached at: 800 339-0353.
Source:http://www.huffingtonpost.co.uk/2013/05/09/dog-hides-in-refrigerator-funny-picture_n_3245199.html