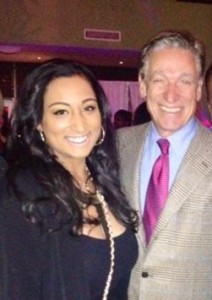 Hi, my name's Anthony Attanasio, and I am the chief of staff at the Appliance Doctor. As many of you know, I've dedicated my entire life to building my company; literally from the ground up.  I've spent many years working to perfect my craft, and my love of bringing satisfaction to my loyal customers. A hard work ethic was drilled into my being at a young age, and I've worked even harder to instill these values into my 2 children as well.
In May 2012, I watched my daughter Alana walk across the stage and accept her Bachelor's degree from St. John's University. As a recent graduate, my daughter knew that the glory was limited and that she was now entering what most of us "seasoned" people call the "real world"…let's just say she wasn't thrilled.  But as a father, I assured her that the world was hers and that she could achieve whatever she wanted to, as long as she worked for it. Alana spent the summer working as a service representative at the Appliance Doctor and in August of 2012, landed a job working as a production assistant on the infamous "Maury Show".
Fast forward to present day, my daughter has recently been promoted to an Associate Producer on Maury, taking on even bigger, yet more gratifying, challenges. As her father and mentor, I am nothing but proud of the intensity and dedication with which she has pursued her dreams. She is an example of just how much hard work pays off.
I share this story with you to ensure you that behind the Appliance Doctor stands a man who has values; life, love and family. It was important to me as a child to build a company and a future that I could be proud of, and I' expect nothing less of my children as well. Both my family and the Appliance Doctor represent a huge part of my life and just how much can be achieved when you work hard.
Good luck Alana on the next chapter of your life and all of us here at the Appliance Doctor wish you nothing but even bigger and better accomplishments in the future!