Cooling
Helping Bronx and Westchester Residents Enjoy the Warmer Months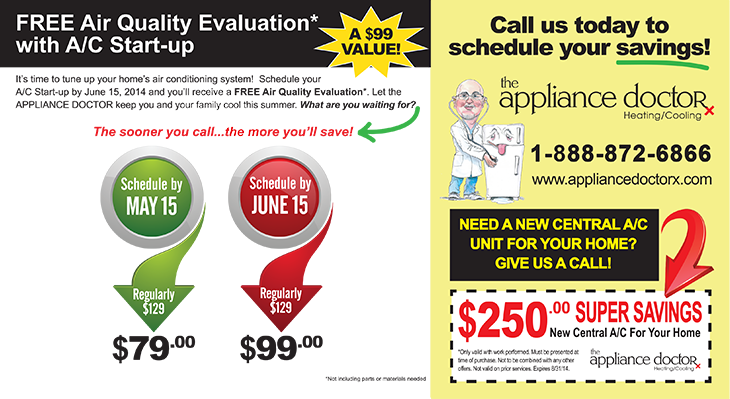 There is really nothing more uncomfortable than a humid summer day in New York City when the air is hanging like a wet blanket over everything and everybody. Temperatures rise and tempers flare and no one is very happy. The Appliance Doctor is a born and bred New Yorker who has been a part of the appliance repair landscape since 1980. His utmost concern lies with the cooling repairs and services needed by those clients residing in the Bronx and Westchester areas of New York City.
The Appliance Doctor's business pledge is a simple one: to provide the consumer with the best quality service and the highest level of technical expertise needed to resolve all air conditioning system problems with energy-efficient cooling solutions.
Air Conditioning System Repair and Service
Call: 1-888-872-6866
The consumer can rely on the Appliance Doctor to provide top-of-the- line service for air conditioning system installations and repairs, all of which are backed by a satisfaction guarantee. In addition, his highly-trained staff of technicians are there to provide professional advice on the most efficient systems available, tips on how to lower utility bills and year round promotional offers.
Quality Solutions and Services
The Appliance Doctor is dedicated to providing the consumer with best air conditioning solutions at the most reliable rates. Expert air conditioning services are dependant on professional, fully licensed and insured technicians who receive ongoing training to constantly improve their knowledge and level of expertise. With an emphasis on prevention and continued maintenance, an air conditioning system must be safe as well as efficient and cost-effective.
Range of Repairs
Cooling equipment (as well as heating) can and often does comprise as much as 70% of your utility bills and repairing this equipment can become a costly affair. Yearly adjustments help to keep air conditioning systems running at optimum efficiency. Services to insure this include: the cleaning of air filters, ductless split systems, checking indoor and outdoor coils, refrigerant replacement, heat pumps, thermostat repair and replacement and humidification and dehumidification.
Even if there's some repair that you don't see mentioned here, rest assured the Appliance Doctor does it and does it well.
Summer or winter, put your confidence in the Appliance Doctor.