Appliance Repair Coupons NYC, Westchester and the Bronx
The Appliance Doctor is constantly striving to stay in the most competitive spot for appliance repairs in and around NYC, Westchester and the Bronx. All throughout the year we are working to provide our New York customers with the most affordable service by offering printable appliance repair coupons in NYC, in the Bronx and also Westchester appliance repair coupons, special deal or discounts.
Look below for the Appliance Doctor list of printable appliance repair coupons and past promotional offers:
Printable Coupons:
Current appliance repair coupons and promotions in NYC, Westchester and the Bronx: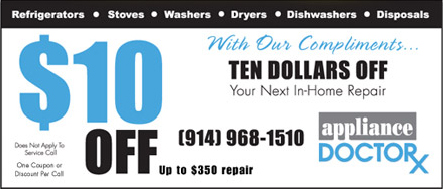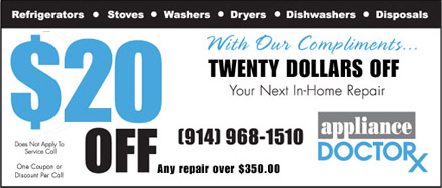 Need appliance repair in New York City or appliance repair in Westchester but don't know where to look or who to call? The Appliance Doctor will make service calls to all areas in Manhattan, the Bronx and Westchester County.
Payment Info
Make sure you have one of our printable coupons when your Appliance Doctor technician shows up!